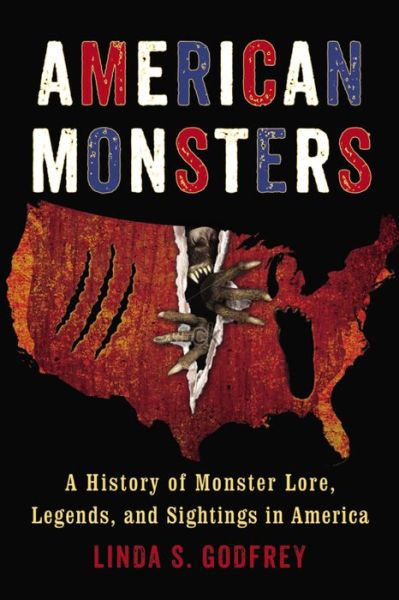 I am happy to announce that this afternoon on September 2nd, 2014, I finally received my copy of
American Monsters
from Amazon! I've had my copy on pre-order via Amazon since December 28th, 2013. That is a LONG time to wait, about nine months. Along with that, I received my copy of
Written in Blood: A Cultural History of the British Vampire
(by Paul Adams). It was supposed to arrive tomorrow, but luckily it came today.
Linda has deviated from her usual studies of werewolves and dogmen in America (don't worry, they're still in this one!), and has opted to write a nationwide study of monsters and strange creatures in America! Amazon has this much to say about the book:
"From pre-Columbian legends to modern-day eyewitness accounts, this comprehensive guide covers the history, sightings and lore surrounding the most mysterious monsters in America—including Bigfoot, the Jersey Devil, and more."
"Bigfoot, the chupacabra, and thunderbirds aren't just figments of our overactive imaginations—according to thousands of eyewitnesses, they exist, in every corner of the United States. Throughout America's history, shocked onlookers have seen unbelievable creatures of every stripe—from sea serpents to apelike beings, giant bats to monkeymen—in every region."
"Author, investigator, and creature expert Linda S. Godfrey brings the same fearless reporting she lent to Real Wolfmen to this essential guide, using historical record, present-day news reports, and eyewitness interviews to examine this hidden menagerie of America's homegrown beasts."
Publisher's Weekly has this to say: "Godfrey frequently draws from myth and folklore and cites cases from history and pop culture, demonstrating extensive knowledge of her subject matter. The book will prove a handy encyclopedia for enthusiastic cryptozoologists of all ages."
—Publishers Weekly
I honestly cannot wait to start reading this one!